The wall of an impact socket is around 50% thicker than that of a regular hand tool socket, making it suitable for use with pneumatic impact tools, whereas regular sockets should only be used on hand tools. This difference is most noticeable in the corner of the socket where the wall is thinnest. It is the first place where cracks would develop due to vibrations during use.
Impact sockets are constructed with chrome molybdenum steel, a ductile material that adds additional elasticity to the socket and tends to bend or stretch rather than shatter. This also helps to avoid unusual deformation or damage to the tool's anvil.
Regular hand tool sockets are usually made from chrome vanadium steel, which is structurally strong but generally more brittle, and therefore prone to breaking when exposed to shock and vibration.
 

Impact Socket

 

Regular Socket
Another noticeable difference is that impact sockets have a cross hole in the handle end, for use with a retaining pin and ring, or locking pin anvil. This allows the socket to remain securely attached to the impact wrench anvil, even under high stress situations.
Why is it vital to only use impact sockets on air tools?
Using impact sockets helps to achieve optimal tool efficiency but most importantly, ensures safety in the workspace. They are specifically designed to withstand the vibration and shock of each impact, preventing cracks or breaks, thereby prolonging the life of the socket and avoiding damage to the tool's anvil.
Impact sockets can be used safely on a hand tool, however you should never use a regular hand tool socket on an impact wrench as this can be extremely dangerous. A regular socket is likely to shatter when used on power tools due to their thinner wall design and the material they're made from. This could be a serious safety risk for everyone using the same workspace as cracks in the socket could cause it to rupture at any time causing severe injuries.
Types of Impact Sockets
---
Do I need a Standard or Deep Impact Socket?
There are two types of impacts sockets: standard or deep. It is important to use an impact socket with the right depth for your application. It's ideal to have both types on hand.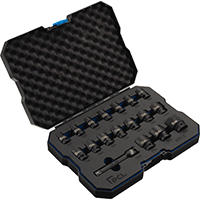 APA10 Standard Socket Set
Standard or "shallow" impact sockets are ideal for grabbing nuts on shorter bolt shafts without slipping off as easily as deep sockets and are suitable for applications in tight spaces that deep sockets cannot fit, for example jobs on cars or motorcycle engines where space is limited.
 

1/2″, 3/4″ & 1″ Single Deep Impact Sockets

 

1/2″, 3/4″ & 1″ Deep Impact Socket Sets
Deep impact sockets are designed for lug nuts and bolts with exposed threads that are too long for standard sockets. Deep sockets are longer in length therefore can reach lug nuts and bolts that standard sockets are unable to reach.
Deep impact sockets are suitable for a wider range of applications. In most cases, they can be used in place of a standard sockets. So, if you aren't planning on working in tight spaces, it is best to opt for a deep impact socket.
What is an extensions bar?
An extension bar distances the socket from the impact wrench or ratchet. They are commonly used with shallow/standard impact sockets to extend its reach to inaccessible nuts and bolts.  
 

APA51 125mm (5″) Extension Bar for 1/2″ Drive Impact Wrench

 

APA50 150mm (6″) Extension Bar for 3/4″ Drive Impact Wrench
What other types of deep impact sockets are available?
Alloy Wheel Impact Sockets
Alloy Wheel Impact sockets encased in a protective plastic sleeve to prevent damage to alloy wheels.
 

APA 1/2″ Alloy Wheel Single Impact Sockets

 

APA12 1/2″ Alloy Wheel Impact Socket Sets
---
Post time: Nov-22-2022