13 Pcs Disc Brake Caliper Piston Compressor Wind Back Rewind Tool Kit for Car Repair
Product Detail
Product Tags
Brake Piston Reset Tool Set. 13 pcs universal caliper wind back kit
This tool set is used to install new brake pads by winding the piston back into the caliper through the convenient T-bar rotation. Piston retraction is smoothly completed without damaging the piston or boot. Its 13 adaptors can be used on both 2 and 4 wheel.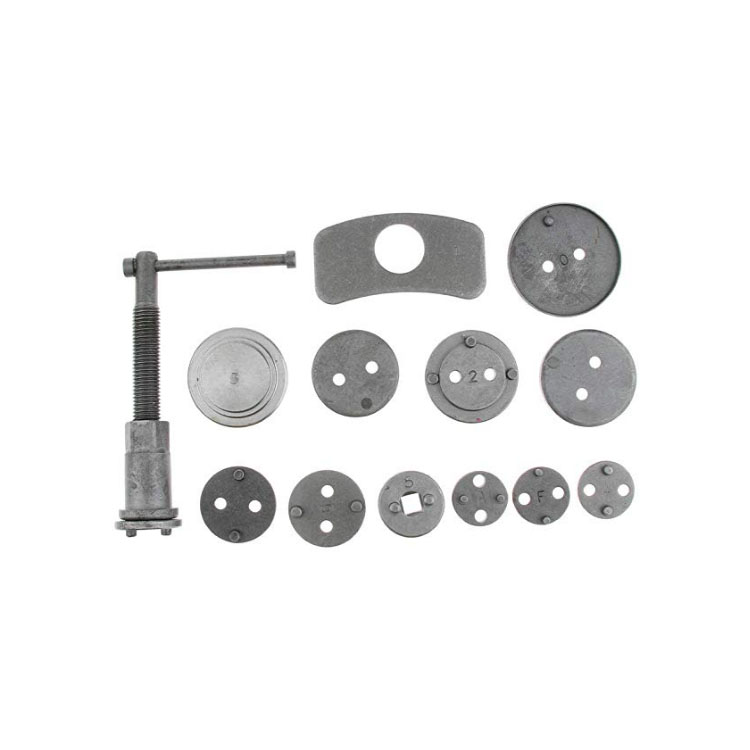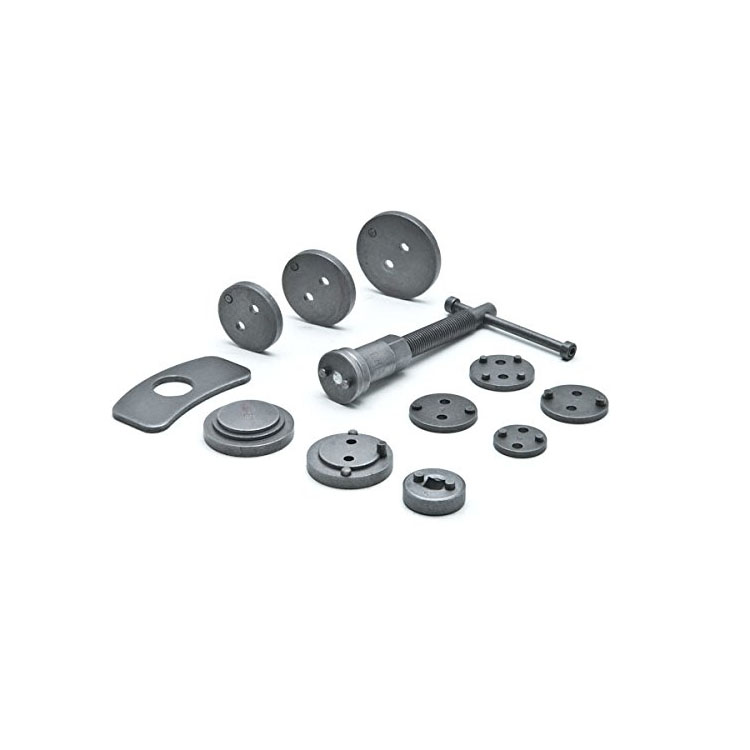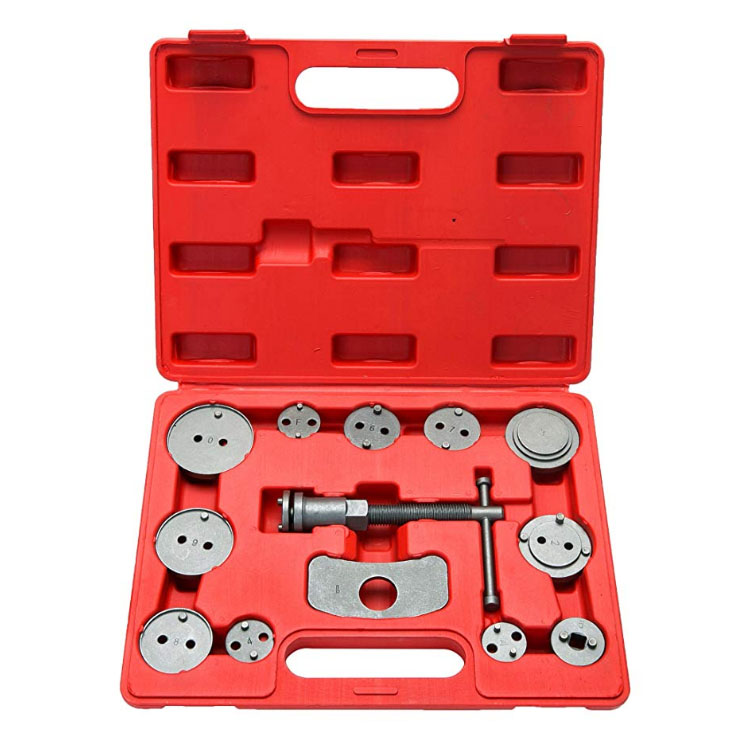 ● For rewinding the brake piston e.g. when replacing the brake pads • wind-back spindle (clockwise) • retainer plate, closed, round with recess • 11 wind-back adaptors.
● Right Threaded wind back tool.
● Suitable for many car models.
● Includes list of matching car models.
Ideal for 4 wheel drive cars/trucks
● 1x spindle with right-hand thread.
● 12x adapter for popular car brands.
● 13Pc kits rotates piston back into caliper for fitting of new brake shoes and pads.
Adapter 0 Compatible for General Motors, Cadillac Seville, Eldorado.
Adapter 1 Compatible for Retaining plate.
Adapter 2 Compatible for Citroen XM, Xantia and other.
Adapter 3 Compatible for Alfa Romeo, Audi, Austin, BMW 318 iS, 320 i, 325 TD, 518 i, 525 i, 740 i, 850 ci, M5, Ford Fiesta, Honda Concerto, Jaguar XJ6, XJ40, Mercedes-Benz 190, 200, 300, 420, 560, Mitsubishi Colt, Nissan Micra, Stanza, Sunny, Range Rover, Toyota Camry, VW Passat, Golf GTI, Volvo.
Adapter 4 Compatible for Alfa Romeo 164 2.0, Fiat, Ford Telstar, Laser, General Motors Saturn, Grand Prix, Lumina, Honda Prelude, CRX, Mazda, Saab 9000, Subaru.
Adapter 5 with 3/8inches square drive.
Adapter 6 Compatible for Nissan Primera, VW Golf 4.
Adapter 7 Compatible for Audi 80 and 90, V8 and 100, Coupe, Ford Sierra ABS, Granada and Scorpio from 1985, Honda Prelude, Nissan Silvia 1.8 Turbo, Blue Bird Primera 2.0 i, LS, GS, GSX, Rover 8000, Saab 9000, Subaru L and Z Peugeot 405 1 .9Gi, Gri, Sri, GTXI, MI16, 605 2.0 Sri, Toyota Celica, Corolla GT, MR2, VW Golf and Passat Cl, Gl, GT, GT 16V, 16V Corrado, Scirocco GTX 16V, Jetta Synchro, Jetta, GTI 16V.
---
---
Write your message here and send it to us