Pneumatic Brake Bleeding Tool Brake Fluid Bleeder For Cars Trucks Motorcycle
Product Detail
Product Tags
Pneumatic Brake Bleeding Tool Brake Fluid Bleeder For Cars, Trucks, Motorcycles
Brake fluid bleeder works with your air compressor to quickly assist in your brake bleeding!
Flush and refill the entire brake system by yourself with this brake fluid bleeder.
Comes with:
34 oz Waster Brake Fluid Tank.
24 oz New Fluid tank that inserts into your master cylinder with 4 different provided adapters.
Size(s) 25/32 in. to 1-7/32 in. diameter (21 To 30mm).
31/32 in. to 1-1/4 in. diameter (24 To 32mm).
1-3/32 in. to 1-15/32 in. (28 To 37mm).
1-1/4 in. to 1-19/32 in. (32 To 41mm).
● Air requirement: 90 to 120 PSI, Air inlet: 1/4''- 18 NP.
● Bleeds hydraulic brakes quick and effectively.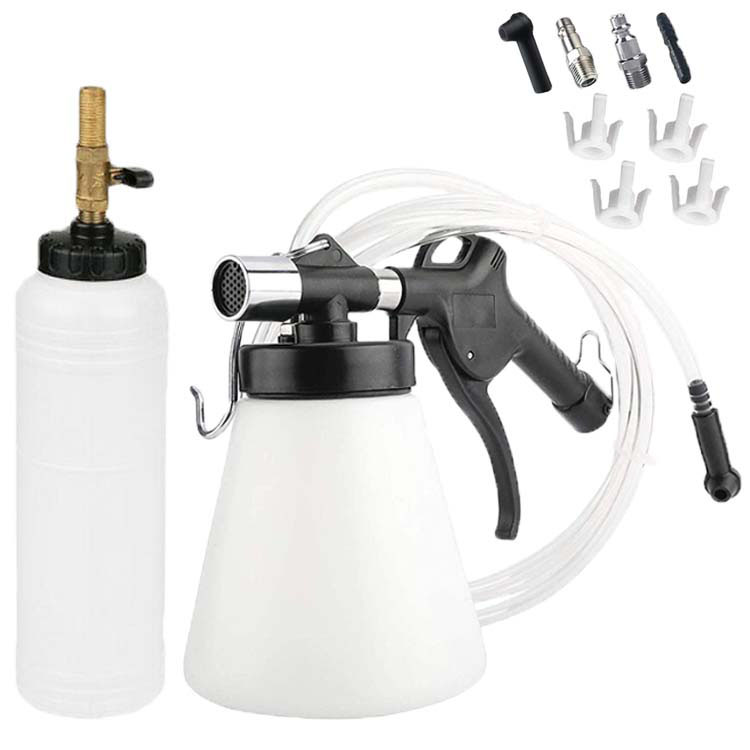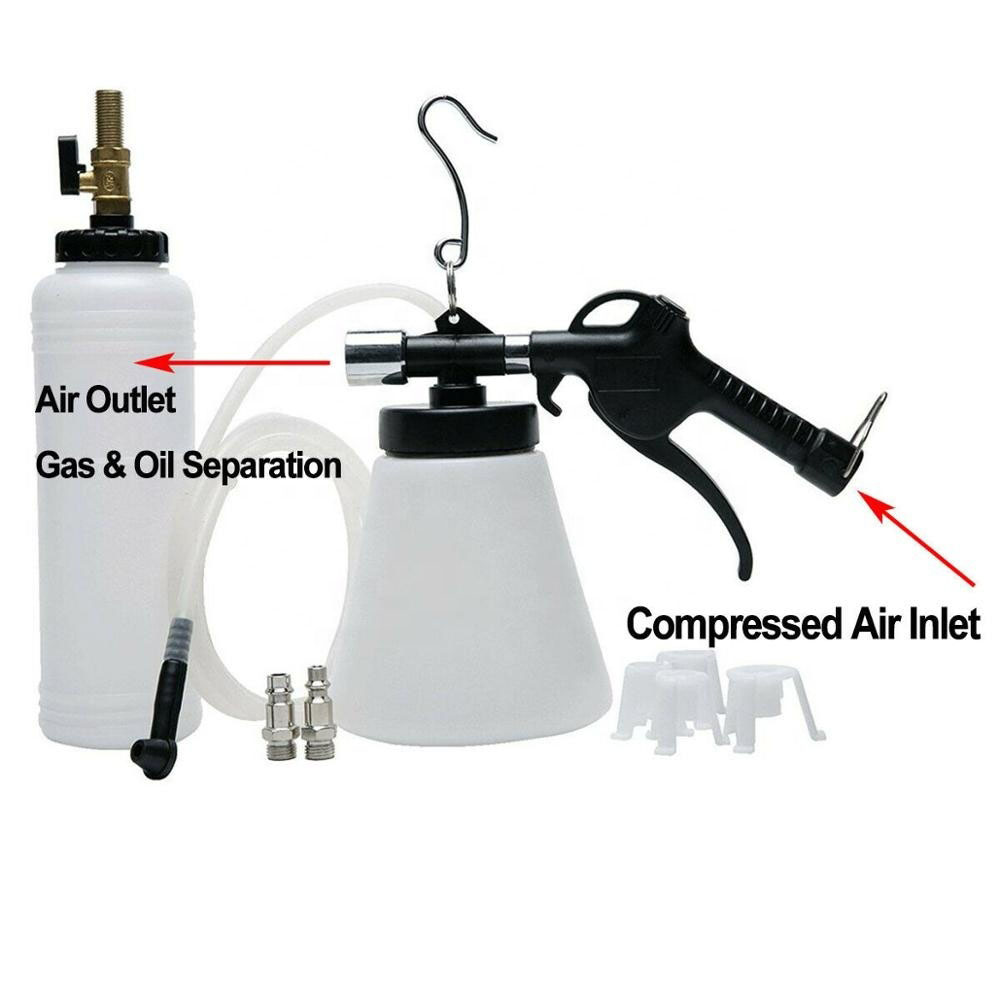 ● One person operation design, easy to handle.
● Car brake fluid changer tool kit includes new oil refill device and waste oil extractor, 2 in 1 set.
● Widely suit for car truck motorcycle pickup and most vehicles.
● Refill bottle can be held on the mouth of vehicle's brake fluid reservoir by the long screw.
1. Fill the new oil filler bottle with new oil and close the valve on the screw. Choose a right cylinder adapter to screw on the long screw of new oil filler bottle, and stuck it on the brake fluid reservoir, then open the valve.
2. Connect the shop air to the waste oil bottle, and connect the black cone nipple to the vehicle bleed valve. Hook the waste oil bottle to the engine cover and use the trigger locker to hookup the trigger.
3. Open the compressor to 90-120PSI for 4-5 mins, close the compressor and check the pressure of the pedal.
1x 1L Old Oil Collection Bottle with 1.8M Hose and Black Suction Nipple ( Hose:I.D. 5MM, O.D. 9MM).
1x 0.8L New Oil Refill Bottle.
1x New Oil Refill Bottle Lid with Long Screw.
1x New Oil Refill Bottle Lid O-ring.
4x Master Cylinder Adapters.
2x Air Quick Plugs (American and European Style).
1x Spare Black Suction Nipple.
1x Barbed Connector for Spare Black Suction Nipple.
1x Instruction.
4 Master Cylinder Adapters
1.25" -1.60" (32 to 41mm).
1.10" -1.45" (28 to 37mm).
0.95" -1.25" (24 to 32mm).
0.80" -1.20" (21 to 30mm).
---
Next:
Automotive Hand Held Vacuum Pump Suction Gun Brake Fluid Replacement Bleeder Pressure Tester Tool Kit
---
Write your message here and send it to us